Foreign Exchange
Money Transfer
Instant Transfer
Cheque Enchashment
We buy and sell major currency banknotes at very competitive rates retail as well as wholesale. We export and import foreign currencies.
The range of money transfer products available to our customers include Cash-over- Counter, Bank Credits, Demand Draft and Door to Door payments.....
You can send and receive money in minutes through international money transfer operators like, Money Gram, Xpress Money Transfer, Coinstar Money Transfer, Instant Cash etc.
Cheque Encashment: We offer our customers following Cheque Encashment Services within the known banking procedures. We encash Hajj Cheques drawn on us by our counterparts during Hajj season under special drawing arrangement. we are .....
More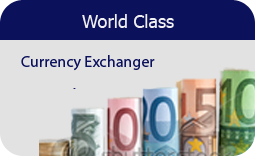 Currency Rate
| | | | |
| --- | --- | --- | --- |
| | Symbol | Bid | Ask |
| | GBP | 1.4959 | 1.4961 |
| | CHF | 0.95193 | 0.95205 |
| | TRY | 2.6913 | 2.6923 |
| | MYR | 3.62 | 3.623 |
| | INR | 62.543 | 62.558 |
| | PKR | 101.5 | 101.7 |
| | PHP | 44.26 | 44.31 |
| | JPY | 118.897 | 118.914 |
| | CNY | 6.1975 | 6.1985 |
| | CAD | 1.2245 | 1.225 |
To see the complete list click here
Please note those are indicative rates